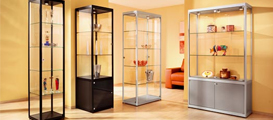 About Us
Wall Cases Corporation has been manufacturing wall cases for more than 20 years.
Our expertise and years of experience has seen us manufacture wall cases for a great number of clients in Canada and the USA. Please feel free to give us call or send us an e-mail message if you would like to discuss your wall case design and ideas.
Please keep in mind that we manufacture a great variety of wall cases. Do ask for our catalogue and we will gladly forward it to you.

Wall Cases Corporation

Wall Cases Corporation was established in Ontario, Canada, more than 20 years ago. Our design and manufacturing techniques reflect our European roots. Wall Cases Corporation has earned the trust of small business owners and Fortune 500 companies alike as our wall cases are made of high quality materials and can be tailor-made to your (budgetary) needs. Our wall cases are durable, secure and our state-of-the-art designs will enhance your business or store.
Our offices and manufacturing location are located in one and the same building. Therefore, you can rest assured that our sales, design and manufacturing teams are working together to ensure your wall display case is built to your specifications. All wall cases that leave our manufacturing area are carefully inspected and delivered to you in super crate boxes.
Our wall display cases are imminently suited as trophy display cases, award display cases, or for displaying your company's products that need to be at eye level to secure your customers' attention. If you order light fixtures with your wall display cases, you have the added advantage of singling out certain products. We recommend that you not overcrowd the wall display case so that each single product's assets are noticed by your customers.
Wall mounted display cases are especially practical when floor space is limited. Hanging wall display cases are the preferred option when space is limited. Wall cases are also preferred when you have products that need to be displayed at eye-level.

Our sales representatives are up-to-date on our latest wall case and showcase display options and designs and we welcome the opportunity to assist you in planning, designing and manufacturing your new wall cases.
Customizing Wall Cases
We have been serving Canadian and American businesses for more than 20 years. Each customer has specific wall case needs and specifications in mind. Therefore, most of the wall cases we manufacture are customized to suit our clients' unique wall case styles and needs.
Our design team uses the latest computer aided design technology. We have the creative skills in-house to make any adjustments you require for your wall display cases. Most of our customers fax us their basic hand-drawn lay-out complete with dimensions and specifications (e.g., company logo, lighting, special shelving, locks, colour etc).
Our sales representative and/or your designated designer will contact you to discuss your wall case requirements. A rendered 3D drawing of your wall case(s) will be submitted to you within a few days' time. The rendered drawing will have to be approved by the customer in writing before we start building the (custom designed) wall case(s).
Whatever your wall case requirements and design needs, we can build it to your exact specifications!
Wall Cases Gallery
Wall Cases Corporation has built up an extensive wall case catalogue that shows the many wall cases that we have designed and built for our customers over the years. If you have already browsed our Wall Cases Catalogue and been unable to locate a wall case that you had in mind, then please give us a call and one of our sales representatives will give you access to our exclusive online photo gallery where you will be able to browse hundreds of photos of completed wall cases.

News