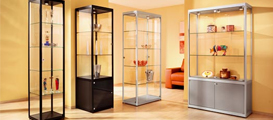 About Us
Wall Cases Corporation has been manufacturing wall cases for more than 20 years.
Our expertise and years of experience has seen us manufacture wall cases for a great number of clients in Canada and the USA. Please feel free to give us call or send us an e-mail message if you would like to discuss your wall case design and ideas.
Please keep in mind that we manufacture a great variety of wall cases. Do ask for our catalogue and we will gladly forward it to you.

Customizing Wall Cases
We have been serving Canadian and American businesses for more than 20 years. Each customer has specific wall case needs and specifications in mind. Therefore, most of the wall cases we manufacture are customized to suit our clients' unique wall case styles and needs.
Our design team uses the latest computer aided design technology. We have the creative skills in-house to make any adjustments you require for your wall display cases. Most of our customers fax us their basic hand-drawn lay-out complete with dimensions and specifications (e.g., company logo, lighting, special shelving, locks, colour etc).
Our sales representative and/or your designated designer will contact you to discuss your wall case requirements. A rendered 3D drawing of your wall case(s) will be submitted to you within a few days' time. The rendered drawing will have to be approved by the customer in writing before we start building the (custom designed) wall case(s).
Whatever your wall case requirements and design needs, we can build it to your exact specifications!