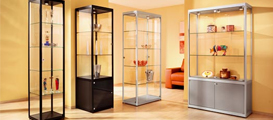 About Us
Wall Cases Corporation has been manufacturing wall cases for more than 20 years.
Our expertise and years of experience has seen us manufacture wall cases for a great number of clients in Canada and the USA. Please feel free to give us call or send us an e-mail message if you would like to discuss your wall case design and ideas.
Please keep in mind that we manufacture a great variety of wall cases. Do ask for our catalogue and we will gladly forward it to you.